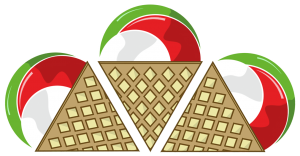 Enter the shop on a 'boiling' day (which is everyday in the Summer, sometimes twice!) and you're senses will be met by that wonderful, hot, heady smell of milk and sugar simmering away gently in the background. Customers can watch Silvio, son Michael, or one of the trained staff, pour the pails of finished 'milk' into the mixer, then 20 minutes later, they will lift piles of soft, dreamy Old Fashioned Vanilla to fill the cabinet in front of you, a simple process that is repeated throughout the day.

Nowadays, it's not just the Vanilla the crowds queue up for- choose from a display of 36, ever-changing flavours daily, you will find it hard to make a selection. From Pooh Bear, the Original McCallums Crunch, Home-made Tablet, to Raspberry Ruffle and Lemon Meringue Pie. Son Michael has recently come up with new creations- a devilishly hot Chilli Chocolate, Taste the Rainbow, Toffee Tingle, Mallow Magic and recently ran a Facebook competition to find the name for his latest, and dutifully called it 'Puff the Magic Toffee' with the winners name proudly printed on the tag!
---
TOO HOT – Renaldo's Ices
This wonderful film project was created by Prancing Jack Productions – prancingjack.com and brought together with the fun, laughter and creativity of a cast of over 60 Ayrshire people to give a 'flavour' of the services provided by Renaldos Ices
---

---

That's right, in fact all our milk is organic and locally sourced from MOSSGIEL Farm, who has been a traditional dairy farm for centuries and dates back to 1784, when world famous ploughman poet 'Robert Burns' worked the farm – it was here he penned one of his most loved poems 'To a Mouse' and met his future wife, Jean Armour.
Today the farm is worked by Farmer Bryce – the third generation of the Cunningham family to work these lands. They organically produce fresh, natural milk from awesome Ayrshire cattle, with a non-homogenised creamy top – the way Burns himself would have done!
Of course this means that you may notice the taste and cream may change throughout the year? Well that's because, depending on the weather, the cows might spend their time eating outside in the fields or they could be inside eating dry food. This can change the taste and cream but also keeps the cows nice and healthy and the milky goodness of our Ice Creams tasting just as amazing!

There are so many more flavours to find in our store and we are making new ones all the time, So what are you waiting for? Come on in and find out your favourite today!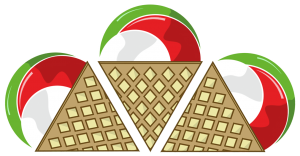 ---